Welded wire mesh types and specifications
Welded mesh types: stainless steel mesh, black iron mesh, galvanized wire mesh, plastic mesh, with a frame mesh. Welded wire mesh selection of high-quality iron Wire, made of precision automated mechanical welding, galvanized (electroplated or hot-dip) after the welded wire mesh sheet is formed; galvanized wire welded mesh sheet made of high-quality galvanized iron wire made by precision automated mechanical welding. The above product mesh surface is flat, solid structure, strong overall, with strong corrosion resistance.
Welded wire mesh is a kind of high-quality Q195 low-carbon steel wire welded together, and then cold (plating), hot-dip, PVC plastic and other surface passivation, plastic processing, net formation, net uniform welding Point solid, local machining performance is good, stable, anti-corrosion, anti-corrosion mesh mesh products. Galvanized (electroplated or hot-dip plated) after the formation of the welded wire mesh sheet; the product line is made of high-quality galvanized iron wire by precision automated mechanical welding. Has a solid solder joints, reasonable structure, uniform mesh characteristics, flat surface, solid structure, strong integrity, with strong corrosion resistance can also be used for construction industry floor heating special mesh. Now in many The area is widely used.
Application of construction
Welded wire mesh is mainly used for construction projects, with strong corrosion resistance, uniform mesh, the overall performance of strong heating of the construction industry floor mesh. Now in many parts of the country is widely used.
Construction of welded wire mesh construction convenience, quality assurance. Welded wire mesh are in the factory according to the design drawings produced, on-site pavement construction. Therefore, compared with the traditional manual lashing on site, it not only ensures the quality of the project, but also accelerates the construction schedule and shortens the construction period.
Construction brick mesh is also a kind of welded wire mesh, which has the construction of convenient, fast and so on, mainly used in the construction of new countryside. To enhance the wall of the tension and prevent earthquake use.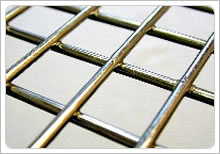 Features
Vivid color mesh, is widely used At exhibitions, sample racks and more.
Material: low-carbon steel wire, electro-galvanized wire, electro-galvanized wire drawing, stainless steel wire.
Advantages: solid welding, uniform mesh, mesh formation, corrosion resistance, strength, protection ability.
This product is widely used in industry, agriculture, farming, construction, transportation, mining and so on. Such as machine enclosures, animal livestock fence, flowers fence, window guardrail, channel fence, poultry cage, egg baskets and home office food basket, paper basket and decoration. Ordinary welded wire mesh sheets can be used in the construction industry for Shu Lan board network and partition network, is ideal for high-rise new building materials.
Welded mesh grid structure concise, versatile, beautiful and practical, easy to transport, installation is not subject to terrain fluctuations, especially for mountain, slope, bend zone adaptability, low prices, suitable for large area adoption. Main Market: Railway closed network highway closed network, field fence, community fence, all kinds of isolation network
Welded wire mesh can be made into the form of mesh surface treatment can be used in plastic or spray process, the surface of the welded wire mesh to form a protective film can effectively make the wire and the outside world of water or other corrosion Sexual material isolation, can effectively increase the use of time, spray technology can make the surface of the mesh presents a different color, the mesh to achieve beautiful results. Dip after the mesh is usually used for outdoor, and the column link, you can play a protective anti-theft effect.